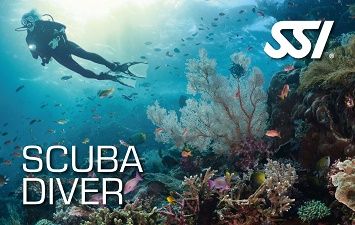 Scuba Diver
Weinig tijd? Start uw duikcursus thuis en rond hem af op vakantie of andersom!
Scuba Diver is de perfecte cursus voor mensen die geen tijd hebben om een compleet Open Water Diver programma te volgen.
De inhoud van dit programma is ongeveer de helft van de SSI Open Water Diver cursus (de complete duikcertificering).
Vervolgens kunt u de tweede helft volgen en een gecertificeerde duiker worden op een ander tijdstip, daar waar dat u het best uitkomt.
Je wordt opgeleid en doet de ervaring op die je nodig hebt om onder supervisie van een duikprofessional veilig te duiken in het buitenwater.
Aan het eind van het programma ontvangt u het SCUBA DIVER certificaat met vermelding van de succesvolle afronding van dit programma.
Dit certificaat geeft u het recht deel te nemen aan begeleide duiken over de hele wereld.

Leeftijd:
- Vanaf 10 jaar
Maximale Diepte:
- 12 meter
Duur:
- 2,5 dag
Medische Verklaring:
-
Medische verklaring
dient volledige ingevuld te worden en cursist moet beschikken over goede gezondheid.
Scuba Diver


Bij de SSI Scuba Diver cursus zit inbegrepen:
- SSI Scuba Diver Handboek inclusief Video's
- Online Logboek
- Online training op www.Divessi.com of DiveSSI APP
- Alle uitrusting benodigd voor het duiken
- Alle instructies
- 3 Beschutwaterduiken + Buitenwaterduiken
- Vervoer duikschool naar duiklocatie
- Het Digitale SSI Scuba Diver Brevet
- 9% OB

Max 4 personen op 1 instructeur.
Na het behalen van de SSI Scuba Diver Brevet 10% korting op een gidsduik!