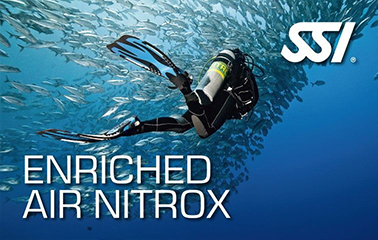 Enriched Air Nitrox
"Heeft u ooit gedroomd over langere duiken met geen-decompressielimieten om foto's te maken of om een wrak te verkennen? Of heeft u wel eens veiliger willen duiken met betrekking tot het potentiële gevaar van decompressieziekte?"
Enriched Air Nitrox
In het Enriched Air Nitrox programma leert u alle noodzakelijke regels om Nitrox-duiken te plannen en om Nitrox veilig te gebruiken. Een belangrijk onderdeel in het hele programma is het analyseren van u tank voordat een Nitrox-duik wordt gemaakt.

Inhoud specialty cursus:
De kennismaking met Nitrox
Nitrox, het lichaam en de onderwaterwereld
Jouw Totaal Duik Systeem en Nitrox
Het plannen van Nitroxduiken
Leeftijd:
- Vanaf 10 jaar
Minimale vooropleiding:
Duur :
- 1 dag
Aantal duiken:
- 2 buiten water duiken
Medische Verklaring:
-
Medische verklaring
dient volledige ingevuld te worden en cursist moet beschikken over goede gezondheid.
Enriched Air Nitrox

Bij de SSI Specialty Cursus: Enriched Air Nitrox zit inbegrepen:
- SSI Online Enriched Air Nitrox Handboek inclusief Video's
- Online Logboek
- Online training op www.Divessi.com of DiveSSI APP
- Alle uitrusting benodigd voor het duiken
- Alle instructies
- 2 Buitenwaterduiken
- Vervoer duikschool naar duiklocatie
- Het Digitale SSI Specialty Cursus: Enriched Air Nitrox brevet
- 9% OB