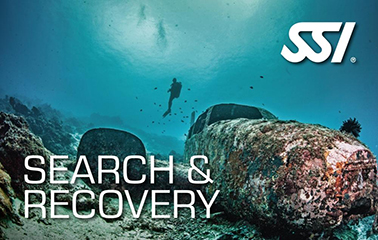 Search & Recovery
Verloren voorwerpen behoren tot het verleden met de SSI Search & Recovery Specialty!
Je leert alles wat je nodig hebt om met gemak verloren voorwerpen onder water te vinden.
Word nu een Search and Recovery Diver en wees de duikbuddy die iedereen aan zijn zijde wil hebben.
In dit fascinerende programma leer je alle vaardigheden die je nodig hebt om veilig en vol vertrouwen zoek- en bergingsduiken uit te voeren.
Je leert hoe je zoekpatronen, gespecialiseerde duikplannen en uitrusting zoals hefballonnen, lijnen en reels kunt gebruiken.
Door je zoek- en communicatietechnieken te ontwikkelen en het zoeken in een duikteam te oefenen, word je in een mum van tijd een zelfverzekerde zoek- en berginsduiker.
Na voltooiing behaal je het SSI Search & Recovery Specialty Brevet.
Leeftijd:
- Vanaf 12 jaar
Minimale vooropleiding:
Duur:
- 1 dag
Aantal duiken:
- 2 buiten water duiken
Medische Verklaring:
-
Medische verklaring
dient volledige ingevuld te worden en cursist moet beschikken over goede gezondheid.
SSI Specialty Cursus: Search & Recovery

Bij de SSI Specialty Cursus: Search & Recovery zit inbegrepen:
- SSI Online Seach & Recovery Handboek inclusief Video's
- Online Logboek
- Online training op www.Divessi.com of DiveSSI APP
- Alle uitrusting benodigd voor het duiken
- Alle instructies
- 2 Buitenwaterduiken
- Vervoer duikschool naar duiklocatie
- Het Digitale SSI Specialty Cursus: Search & Recovery Brevet
- 9% OB

Max 4 personen op 1 instructeur.
Na het behalen van de SSI Search & Recovery Cursus 10% korting op een gidsduik!